ENJOY THE SOOTHING EXPERIENCE!
Zerran Reform Natural Hair Straightening System
Zerran's Reform® is a revolutionary new way to achieve straight, sleek hair permanently without using harsh chemicals. With Reform, there is no need for gloves, protective skin balms or masks.
No unpleasant odors, just the natural scent of essential oils. The gentle natural formula, used in conjunction with specific heat, can straighten all hair types. Reprocessing can be done from roots to tips without breakage, because Zerran Reform Contains No Thioglycolates, Sodium Hydroxide, Aldehydes or Formaldehyde.
My whole life my hair has been my worst enemy. It was frizzy, wavy, puffy and curly all at once. I went through three different hair straighteners, tried all the de-frizzing shampoos, and even had my hair chemically relaxed, which smelled like paint, and didn't even work all that well. I would spend over two hours in front of the mirror, with a blow dryer and a flat iron, and in the summer all that hard work didn't even last ten minutes with high humidity. I was beginning to think that nothing can save me. Until I decided to try Zerran Reform.
Unlike the last straightening treatment, it didn't leave my hair smelling like paint, and most importantly it actually works! When I first washed my newly straightened hair, it took me maybe fifteen minutes to blow dry and it looked great! I went outside, and it stayed that way! Now when I get lazy, I can just let it air dry and It still looks great! I save so much time now, and my hair is healthier since I don't have to blast it with superheated air every day.
My battle with my hair is over. And I won! Zerran Reform works!
My hair looks great. Thank you so much Pina!
Ana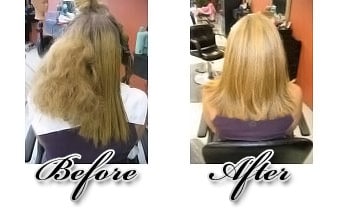 Pina B's is your local Etobicoke Zerran Reform hair salon, offering expert treatment and professional service
Create Your Perfect Spa Experience
Call or email to speak with a member of the Pina B Spa Team today to create your own customized Spa Experience, with just the right combination of services and treatments.
About Us
Opened in 1987, Pina B's Salon & Spa has served the community in that location ever since. Ten years later, in a major expansion, Pina added a spa to the busy hair care and tanning services. Whether it's newly proven or tried and true, you can always find the latest and greatest at Pina B's.
ADDRESS: 3439 Lake Shore Blvd W Etobicoke, ON, M8W 1N2 Canada
PHONE: 416-253-4656
Prices do not include applicable taxes. Prices are subject to change without notice.
Opening Hours
Tuesday
by appointment only 10am to 6pm